New Patients at Beatrice Family Chiropractic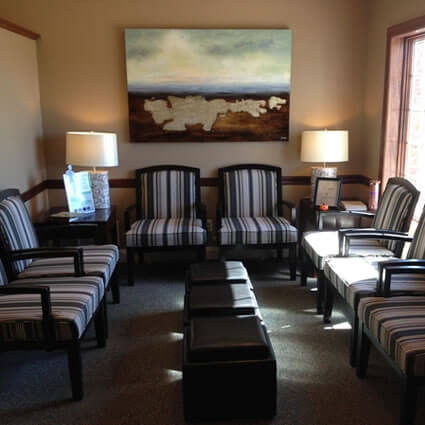 When you walk into our office, we want you to feel at home. Our staff will greet you with a smile and engage you in conversation. If you are hurting, we will offer whatever comfort we can.
Other patients have the same fears, same doubts you do; we helped them, we can help you. Dr. RJ deals with your anxiety and gives you assurance that your situation is not unique. They faced the same issues as you and received the care needed to live pain-free. You can too!
Meet the Staff
Our friendly staff will welcome you, make sure all paperwork is complete and answer any questions you might have about the process.
After this is done, our Chiropractic Assistant (CA), will bring you into the back and give you our "Right Place Promise". We assure you that you're in the right place, no matter what you've heard. Whether your low back is killing you, or there's numbness in your foot, we guarantee we've had others with the same complaints in our office this week. We have great success; we're going to be able to help you.
The CA will go over your paperwork and complete a history of your condition. You will then be taken to the consult room to watch a short, 5-minute welcome video.
Dr. RJ comes in and introduces himself and ask what name you prefer to be addressed by. He goes through the medical history with the patient, discussing any items that he needs further clarification on. Digs until he finds where the problem started.
Most people don't realize where their pain really originates from. Unspoken issues, new and old, can present totally different symptoms now. At times, seemingly unrelated information provides the clues we need to find your solution. Getting to the root cause of your pain is our goal.
When he is satisfied that he has all the information he needs, Dr. RJ will take you for x-rays and other evaluation tests. When done, the report of findings appointment is scheduled.
Dr. RJ prepares a report of his findings to discuss at your second visit. He goes over all the information, shows you where your problem is and all available options. He also answers any questions you might have at this time. Once you agree with the care plan, you will receive your first adjustment. Subsequent adjustments are scheduled according to your customized care plan.
If Dr. RJ feels he cannot help you, he will offer to refer you elsewhere. Your wellness is what's most important.
Beatrice Family Chiropractic is an in-network provider with all major insurers, Medicare/Medicaid and VA. We accept all major credit cards; the Care Credit card and payment plans through Cleargage Financing.
Ready to Take the Next Step?
Don't let pain stop you from living life to its fullest. Get your freedom back; contact us today. (402) 228-2777; we're waiting to hear from you.
CONTACT US »
---
New Patients at Beatrice Family Chiropractic | (402) 228-2777